ALERT: If you are experiencing problems with your PGe app, please make sure you are using the new version. The icon with the new version has a white background as seen below. Click here to email support if you need further assistance.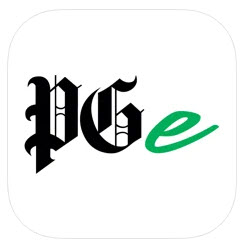 Click here to view some helpful tips.

Here is how to contact us...
Call us at 1-800-228-NEWS (6397).
Monday - Friday 7:00 am - 5:00 pm, weekends or holidays 7:00 am - 12:00 pm.
Closed on Christmas and New Year's Day. The automated system is available 24/7.
Email - answer a few short questions below to contact a Customer Service agent.
Click here to see all other Post-Gazette contacts.